3532165712_257253ba61_o-scaled
Slide
Visa for Future Certificate
Aruba ED Card Online
Mandatory for all visitors who are staying in Aruba for more than 24 hours.
$33 flat fee.
24 hours processing time.
We plant a tree for every product sold.
1.2 million visas processed and 7 years of experience
---
As seen on…
---
What is an Aruba ED Card?
The Aruba ED card is a document that grants pre-authorization for entry into Aruba. It is an important requirement for anyone planning to visit the country. Also known as the Embarkation and Disembarkation Card, it's an electronic registration system that the Aruban government requires visitors to use. The ED-Card is an online form that collects essential information from visitors, such as personal details, travel information, and purpose of visit.
As per the State Decree of Admittance AB 2009 no. 59, all travelers visiting Aruba are required to obtain an online ED card. This is mandatory for all non-resident travelers, including those from visa-required countries. The online travel qualification must be obtained through this system before boarding permission is granted.
---
Who needs an Aruba ED Card?
If you are planning to travel to Aruba and stay for more than 24 hours, it is mandatory to complete the Aruba ED-Card. This applies to all travelers, including residents of Aruba and those from visa-required countries. It is important to note that even babies and children must have an ED-Card.
---
Is the Aruba ED Card a visa?
It's important to note that the Aruba ED card is not a visa and cannot be used as a replacement for a visa. If your nationality requires a visa, you will need to visit an embassy or consulate. Here is a map that displays the countries that require a visa to enter Aruba.
Click here for a list of nationalities that require a visa
Countries that are not listed below are allowed to enter Aruba with only an ED card and a passport.
Afghanistan
Albania
Algeria
Angola
Armenia
Azerbaijan
Bahrain
Bangladesh
Belarus
Belize
Benin
Bhutan
Birma (see Myanmar)
Bolivia
Bosnia and Herzegovina
Botswana
Burkina Faso
Burundi
Cabo Verde
Cambodia
Cameroon
Central African Republic
Chad
China
Comoros
Congo (Congo-Brazzaville)
Congo (Democratic Republic)
Cuba
Djibouti
Dominica
Dominican Republic
Egypt
Equatorial Guinea
Eritrea
Eswatini
Ethiopia
Fiji
Gabon
Gambia
Georgia
Ghana
Grenada
Guinea
Guinea-Bissau
Guyana
Haiti
Hong Kong
India
Indonesia
Iran
Israel
Iraq
Ivory Coast
Jamaica
Jordan
Kazakhstan
Kenya
Kiribati
Kosovo
Kuwait
Kyrgyzstan
Laos
Lesotho
Liberia
Libya
Macedonia
Madagascar
Malawi
Maldives
Mali
Marshall Islands
Mauritania
Micronesia
Macau
Moldova
Mongolia
Montenegro
Morocco
Mozambique
Myanmar (formerly Burma)
Namibia
Nauru
Nepal
Niger
Nigeria
North Macedonia
North Korea
Northern Mariana Islands
Oman
Pakistan
Palau
Palestinian Territories
Papua New Guinea
Philippines
Qatar
Russian Federation
Rwanda
Saint Lucia
Saint Vincent and the Grenadines
Samoa
Sao Tome and Principe
Saudi Arabia
Senegal
Serbia
Sierra Leone
Solomon Islands
Somalia
South Africa
Sri Lanka
Sudan
Suriname
Syria
Tajikistan
Tanzania
Thailand
Timor-Leste
Togo
Tonga
Trinidad and Tobago
Tunisia
Turkey
Turkmenistan
Tuvalu
Uganda
Ukraine (biometric passport holders exempt)
United Arab Emirates
Uzbekistan
Vanuatu
Venezuela 
Vietnam
Yemen
Zambia
Zimbabwe
Nationalities below are visa-exempt if he/she possesses a biometric passport. In that case, they only need the ED Card.
Albania 
Bosnia and Herzegovina
Georgia
Hong Kong
Israel
Macau
Moldova
Montenegro
North Macedonia
Serbia
Travelers who hold a valid residence permit (temporary, permanent, or multiple visa) from any of the following countries are visa-exempt:
Kingdom of the Netherlands
United States of America
Canada
The Schengen Territory
United Kingdom
Ireland
---
Key features of the Digital Aruba ED Card
The digital Aruba Embarkation and Disembarkation card replaced the paper one. Here are the key benefits that travelers get with the digital card:
No chance of losing the card when you disembark. The form will be sent to you via email, which you can retrieve again.
Quick approval time. You will receive a confirmation email with your approval status within 1 day.
It helps to verify that you have met all of the entry requirements for Aruba. This includes having a valid passport, visa (if required), and travel insurance.
It speeds up the immigration process upon arrival. After completing your ED Card, you will receive a QR code to expedite entry into Aruba.
It is valid for a single entry. Once you have completed your ED Card, you can use it for a single entry to Aruba.
---
How to order
Fill out the application form.
Submit payment.
Answer intake questions.
Receive your Aruba ED Card within 24 hours!
---
Why Choose Us
Our forms are easy and simple.
We validate your application.
We answer your questions.
We plant a tree!
---
What you'll get
When you order the Aruba ED Card processing service from us, you will receive the following:
Aruba ED Card
For every person you order for, we will give you the Aruba ED Card.
Tree Planting Certificate
For every order, we will plant a tree. The certificate thanks you for your contribution and gives you details on which reforestation project you supported.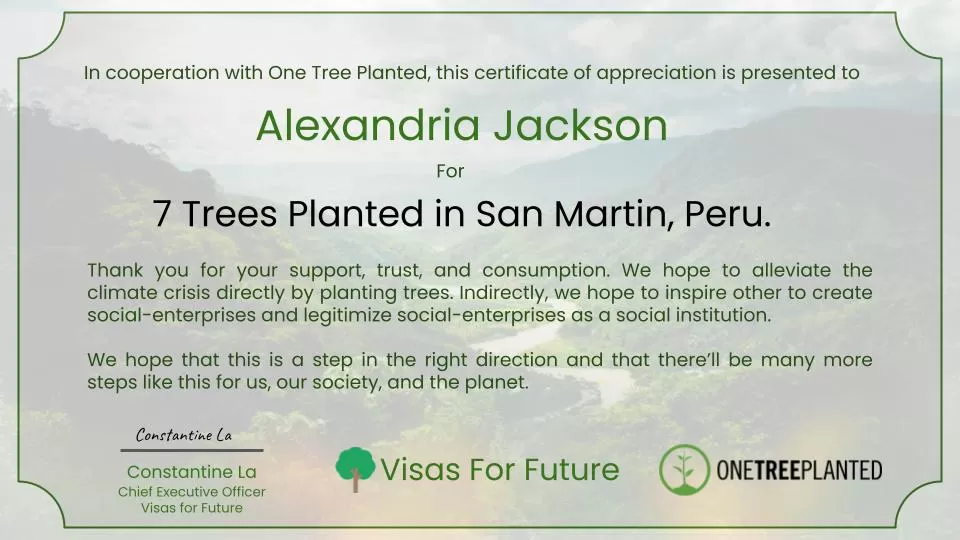 ---
When Can I fill out my ED Card?
Travelers can apply for an Aruba ED-card anytime but we can only process it as early as 7 days before their arrival date. Travelers are required to reapply for an Aruba ED card if they have missed their flight or if it has been canceled and they are traveling to Aruba on another flight. We can reprocess the Aruba ED-Card free of charge for canceled flights.
---
Aruba ED Card Requirements
The documents required for an Aruba ED Card are as follows:
A valid passport with at least 6 months validity.
Proof of accommodation in Aruba, such as hotel booking or invitation letter from a host.
Flight Itinerary (Immigration checkpoint, airline & flight number).
---
How we're different
We'll plant a tree for every product sold. Our vision is to support communities and the environment by offering services to the public. For every product sold, we'll plant a tree. We do this with local help to support local economies and communities. This is in opposition to mass-tourism, which sucks the soul out of destinations. This is also in opposition to greedy international corporations, whose only concern is shareholder profit.
We do this with the help of One Tree Planted. A portion of every purchase goes to a reforestation or urban forestry project.
We hope that, by succeeding, we can have a future that we hope for, not dread.
---
What's the cost for an ED Card?
Our ED Card processing service charges a flat fee of $33.
---
Do minors and the disabled need an ED Card?
Yes, minors and disabled travelers are also required to have an ED Card when visiting Aruba. We understand that some travelers may require assistance in completing the Aruba ED-Card, especially minors or individuals with disabilities. That's why we offer a convenient solution – a responsible adult can complete the necessary information on their behalf and present their travel document.
We believe that everyone should have the opportunity to experience the beauty of Aruba, and we're here to make that happen. Let us help you obtain your Aruba ED-Card hassle-free, so you can focus on enjoying your trip.
---
How long is the ED Card Valid for?
The online ED-card is valid from the moment the application is approved until the tourist is granted permission to enter Aruba or until the flight mentioned in the registry arrives in Aruba.
---
Is a Covid-19 test required for Aruba?
Travelers to Aruba no longer need to present a negative COVID-19 test or proof of vaccination.
---
Aruba ED Card Frequently Asked Questions
Do I need a visa travel authorization to transit through Aruba?
If you are a citizen of a country that requires a visa to enter Aruba, you will need a transit visa to transit through Aruba. However, if you are a citizen of a visa-exempt country, you do not need a transit visa to transit through Aruba.
Do I need a confirmed flight before I apply for the ED Card?
Yes, it is mandatory to have a confirmed round-trip flight to Aruba to complete the ED card application.
Do I need the ED Card to leave the country?
Yes, you will need to present your ED Card when leaving the country. So, make sure to keep your ED Card safe and easily accessible until you leave the country.
Is the ED Card still required in Aruba?
Yes, the ED Card is still required for entry into Aruba. All visitors to Aruba must complete the online ED Card process prior to arrival. The ED Card is a mandatory entry requirement and failure to complete it may result in denial of entry into the country.
What are the possible statuses for an Aruba ED Card?
There are two possible responses for an online ED card application:
Qualified: You have met the criteria to be eligible for an ED card and can fly to Aruba. The ED card online system will display that your application has been approved. You will get the ED card via email from the Aruba immigration office.
Denied: The immigration officer may reject your application due to various reasons. Please remember that the Aruban immigration officer may not explain why or why you cancel your ED card application. The best you can do is to contact the Aruba embassy and discuss your matter.
Note that providing false information to qualify for travel may result in penalties and criminal charges.
I have additional questions.
---