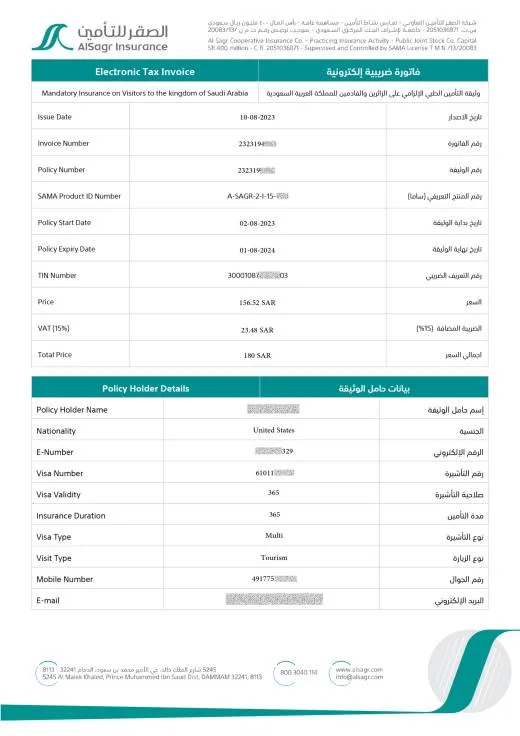 3532165712_257253ba61_o-scaled
Saudi_arabia_insurance_page-1
Sample
Saudi Arabia Health Insurance
page 1
Saudi_arabia_insurance_page-2
Sample
Saudi Arabia Health Insurance
page 2
Saudi_arabia_insurance_page-3
Sample
Saudi Arabia Health Insurance
page 3
Saudi_arabia_insurance_page-4
Sample
Saudi Arabia Health Insurance
page 4
Slide
Visa for Future Certificate

Saudi Arabia Tourist eVisa Processing Service
90 days duration.
Multiple entry.
$214.82 fee includes the government fee and the mandatory health insurance.
3 days turnaround time.
Form validation included.
We plant a tree for every visa sold.
1.2 million visas processed and 7 years of experience
---
As seen on…
---
What we're selling, the Saudi Arabia Tourist eVisa
If you want to travel to Saudi Arabia and have one of the below passports, you need a Saudi Arabia Tourist eVisa. Our eVisa processing service will give you your Saudi Arabia Tourist eVisa and mandatory health insurance in your mailbox within 3 days. We offer 90 days duration, multiple entry Saudi Arabia Tourist eVisa.
Nationalities for Saudi Arabia Visa Online Service
People from these countries can obtain an e-Visa or a Visa on arrival for Saudi Arabia:
Click here for list of nationalities
Albania
Andorra
Australia
Austria
Azerbaijan
Belgium
Brunei
Bulgaria
Canada
China (Including Hong Kong And Macau)
Croatia
Cyprus
Czech Republic
Denmark
Estonia
Finland
France
Georgia
Germany
Greece
Holland
Hungary
Iceland
Ireland
Italy
Japan
Kazakhstan
Kyrgyzstan
Latvia
Liechtenstein
Lithuania
Luxembourg
Malaysia
Maldives
Malta
Monaco
Montenegro
New Zealand
Norway
Poland
Portugal
Romania
Russia
San Marino
Singapore
Slovakia
Slovenia
South Africa
South Korea
Spain
Sweden
Switzerland
Taiwan
Tajikistan
Ukraine
United Kingdom1
Unites States
Uzbekistan
1Nationals who may obtain an electronic visa waiver (EVW) instead of a visa.
Holders of a US, UK or Schengen visa are eligible for a Saudi eVisa upon arrival, as long as the other visa is still valid and it has been used at least once to travel to the respective country/area.
Documents required
The documents required for a Saudi Arabia e-visa are as follows:
A passport with atleast 6 month validity.
Passport-size photo.
Details of accommodation in Saudi Arabia.
Flight itinerary.
Health Insurance (to be purchased while ordering the eVisa).
Financial proof.
Why Choose an Agent