Here are the main points of the Polish passport photo requirement:
The photo must be in color and have a plain white background, with no patterns, prints, or shadows. Passport photo size Poland is 35mm x 45mm.
The photo must be recent and taken within the last 6 months.
The head must fill 70-80% of the photo, centered and squared with the camera. The distance from the chin to the top of the head must be between 31 mm and 36 mm.
The face must have a neutral expression, with no smiling or frowning. The mouth must be closed.
The eyes must be open and directed at the camera, with no glasses or sunglasses.
The hair must not cover the face or create shadows on the face.
The headgear is only allowed for religious or medical reasons, and it must not obscure the face or the hairline.
The beard is optional, but it must reflect the current appearance of the applicant.
You will need to provide four photos for your passport application in Poland.
Here's the full rules for the Polish passport photo:
The person must face the front.
The photo can not be edited.
Hats and head covers are not permitted, besides veils for women.
If a woman is wearing a veil, the full face must be visible.
The photo can not have a shadow on the face.
The background must be white.
Glasses can not have a glare and must not be sunglasses.
Visas for Future Passport Photo Service
Use the Visas for Future passport photo service to get a passport photo that'll work for your application. Simply take a photo of yourself using our guidelines, send it in and we'll edit it. We'll send you your passport photos by post with free shipping. We deliver to the Canada, EU, US, and UK. For individuals outside of those countries, we can deliver your passport photos to your inbox, which you can print at home. For every product sold, we plant a tree!
How it works
Take a photo.
We verify your photo.
Passport photos are delivered by post or email.
---
How to take your passport photo
Here's how you can take passport photos at home, to ensure that they'll be high quality:
1.) Stand .5 meters or 2 feet from the wall. This ensures that there's no shadow on your portrait.
2.) Place the camera 2 meters or 6 feet away from subject. This will prevent distortion and give you a prettier picture!
3.) Have the camera on the same level as the subject's face.
4.) Use plenty of lighting. Natural light is preferred but plenty of light in general is the best. Make sure it is even and doesn't leave a shadow.
Benefits of using an online passport photo service
There's many choices when it comes to getting a passport photo but here are reasons why you should go with an online agent:
You don't have to leave your house.
We know the passport photo rules of the country you're applying to.
We validate your photo – we check your passport photo to make sure it is in order.
Save money with bulk orders – you can order many passport photos and save.
Why choose us
Visas for Future is a convenient service that can help you with your passport photo needs. Here are six reasons why you should choose Visas for Future for your passport photo services:
Expertise: Our experts ensure that your passport photo meets the official requirements of your destination country.
Convenience: You can upload your own photo or take one with your smartphone, and we will crop, resize, and enhance it to create a perfect biometric photo.
Support: We're visa and passport photo experts. You can ask us travel questions, which will make your trip planning process easier.
Speed: Your photos are shipped within a day!
Unlimited retakes: You can also take as many photos as you want until you are satisfied with the result.
---
Join us and plant a tree!
Solving the most urgent environmental problems requires teamwork! That's what motivated us to partner with One Tree Planted, a non-profit organization that aims to make it simple for anyone to help the environment by planting trees.
We plant a tree for every product sold. Our vision is to support communities and the environment by offering services to the public. For every product sold, we'll plant a tree. We do this with local help to support local economies and communities. This is in opposition to mass-tourism, that sucks the soul out of destinations. This is also in opposition to greedy international corporations, whose only concern are shareholder profit.
We do this with the help of One Tree Planted. A portion of every purchase goes to a reforestation or an urban forestry project. We hope that, by succeeding, we can have a future that we hope for, not dread. You can help us, by voting with your consumption. Buy a visa from us, to plant a tree.
Our tree planting projects follow these guidelines:
They aim to create green spaces, protect wildlife, store carbon, improve farming or benefit communities.
They plant at least 10,000 trees.
They use a variety of native plants that fit the local environment.
They engage and empower the local people.
They draw on the knowledge and skills of experts or professionals in reforestation fields.
They leave the trees planted for nature and not for profit.
They track and care for the trees planted to ensure around an 80% survival rate.
---
FAQ
How do I take a passport photo with Visas for Future?
Simply use your smart phone or camera to take a photo and upload it to our form. You can do this on your phone or on your desktop/laptop.
How do I print my passport photo?
We can send you printed passport photos if you live in the US, Canada, or EU. You can also get a digital download which you can print on printer paper at home as an alternative. To print at home, use your home printer.
How recent must my passport photo be?
Your passport photo must be taken within the last six months of your application date.
I have additional questions about passport photo.
Learn more about Passport photo size Poland
Table of Contents
What is Passport photo size in Poland?
The passport photo size in Poland is 35 mm x 45 mm. The face should cover 70-80% of the photo. The background should be light-colored and plain. The photo should be recent and show a neutral expression. 
 A good passport photo should meet the following criteria:
The size should be 35 mm x 45 mm.
The face should cover 70-80% of the photo.
The background should be white and plain.
The photo should be recent and show a neutral expression.
The photo should be clear and in focus.
The photo should show the natural color of the skin, eyes, and hair.
The photo should not have any shadows, glare, or red eyes.
The photo should not show any glasses, headgear, or uniforms.
A good passport photo is important because it helps to verify your identity and prevent fraud. It also helps to avoid delays or rejections in your passport or visa application. A good passport photo can also make you look more professional and confident when you travel abroad.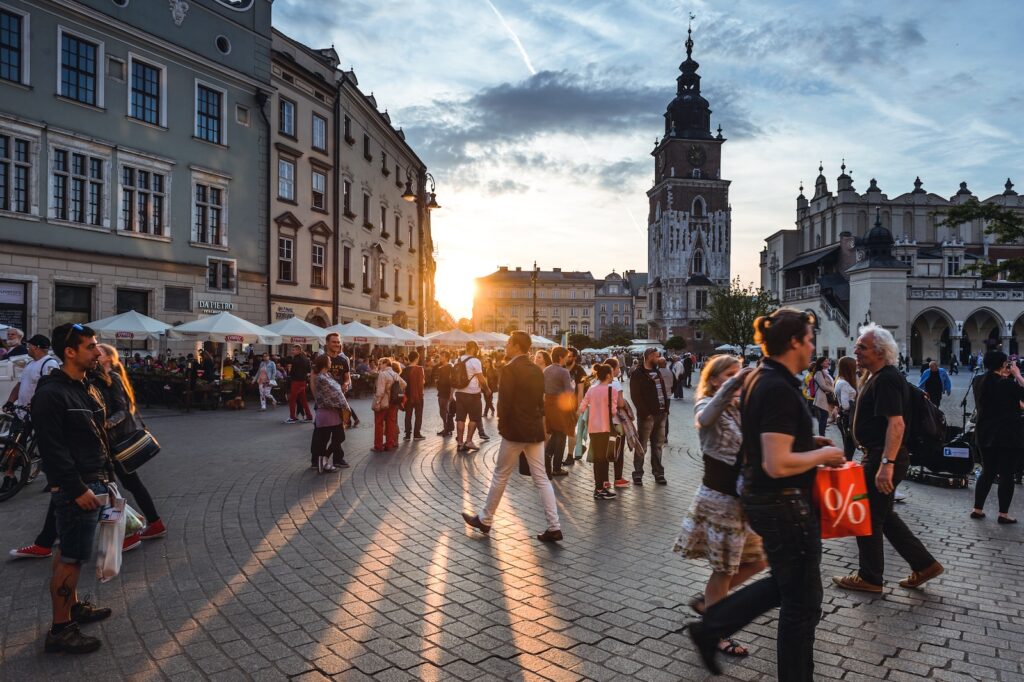 What is an identity document?
An identification document, also known as an identification document, is any document that can be used to prove a person's identity. If issued as a small standard credit card, it is often called an identification card (IC, identity card, citizen card) or passport card. Some countries issue official identification documents, such as national identity cards, which may or may not be mandatory, while other countries may require verification of identity with identification documents. regional format or optional.
When an identification document includes a photograph of a person, it may be called a photographic identification document. In the absence of a government-issued ID, a driver's license may be accepted in many countries for identity verification. Most countries accept passports as a form of identification.
What is the Poland Identity Document document?
The Poland Identity Document is a document that confirms the identity and citizenship of a Polish citizen. It is issued by the local office of civic affairs and it is required for every Polish citizen 18 years of age or older residing permanently in Poland. It also serves as a travel document in certain countries. 
The Poland Identity Document is a plastic card that contains personal data, photo, and biometric features of the holder. It also has a microchip that stores the holder's digital signature and fingerprints. The Poland Identity Document is valid for 10 years (5 years for children under the age of 5) and it costs 140 PLN (about 30 EUR) to issue or replace.
What is photography?
Photography is the art and science of creating images by capturing light, with a camera or other device. Photography can be used for many purposes such as art, communication, documentation, entertainment, education, and research. Photography has a long and rich history, dating back to ancient times when people used a device called a camera obscura to project an image of a scene onto a wall or screen. The first permanent photograph was taken in 1826 by Joseph Nicéphore Niépce, who used a metal plate coated with a photosensitive substance to record the view from his window.
Since then, photography has evolved through many technological innovations and artistic movements, such as daguerreotypes, calotypes, film, digital cameras, color photography, photojournalism, portrait photography, landscape photography, abstract photography, etc. Photography is a diverse and dynamic field, offering many opportunities for creative expression and exploration.
What is a selfie?
A "selfie" is a photo of yourself, usually taken with a smartphone or webcam and shared via social media. It usually includes yourself and is captured by yourself using a digital camera, especially for distribution on social networks. The term "selfie" usually refers to self-portraits taken with a camera held at hand, as opposed to photos taken with a self-timer or remote control. However, a selfie can include many subjects. As long as the photo is taken by one of the prominent subjects, it is considered a selfie.
What is digital photography?
Digital photography is the art and science of creating images by capturing light with a digital camera, instead of using film. Digital cameras have electronic sensors that convert light into electrical signals, which are then processed and stored as digital files on a memory card or other device. Digital photography allows you to view, edit, share, and print your photos on your computer or smartphone without resorting to chemical development. Digital photography also offers more control over the exposure, focus, color, and composition of your images, as well as the ability to use different modes, filters, and effects.
What is a mobile phone?
A mobile phone is a portable wireless device that allows users to make and receive calls. While the first generation of cell phones could only make and receive calls, today's cell phones do much more, supporting web browsers, games, cameras, video players, and computer systems. navigation entertainment system.
Mobile phones operate on cellular networks made up of cell towers scattered throughout cities, countryside, and even mountainous regions. If a user is in an area where there is no signal from the cell site of the mobile network provider they subscribe to, they cannot make or receive calls at that location.
In addition to telephony, digital mobile phones support many other services, such as text messaging, multimedia messaging, email, Internet access (via LTE, 5G NR, or Wi-Fi ), short-range wireless communications (infrared, Bluetooth), satellite access (navigation, messaging connectivity), professional applications, video games, and digital photography.
What is a smartphone?
A smartphone is a device that combines the functions of a mobile phone and a computer. Smartphones can make and receive calls, send and receive text messages, access the Internet, take photos and videos, play games, listen to music, use GPS, and run a variety of applications. Smartphones usually have a touchscreen, camera, speakers, microphone, battery, and SIM card slot. Some smartphones also have features like fingerprint scanners, facial recognition, wireless charging, water resistance, and 5G connectivity.
What is digital printing?
Digital printing is a method of printing from a digital image directly onto various media, such as paper, canvas, metal, or fabric. Digital printing does not require printing plates, unlike traditional printing methods such as offset or lithography. Digital printing can use inkjet printers or laser printers, which apply ink or ink to the paper surface. Digital printing is faster, cheaper, and more convenient than traditional printing for short runs and variable data printing.
What is an image?
An image is a visual representation of something. It can be a two-dimensional (2D) image, such as a drawing, painting, or photograph, or a three-dimensional (3D) object, such as a sculpture or sculpture. Images can be displayed through other means, including projection onto a surface, electronic signal activation, or digital signage.
In the context of signal processing, an image is the amplitude distribution of a color(s). In optics, the term "imaging" can refer specifically to 2D imaging. An unstable image that lasts or is perceived only for a short period of time. It can be the reflection of an object in a mirror, a projection from a dark room, or a scene displayed on a cathode ray tube.
What is a Business product?
Business products are products sold to other businesses for their use and not to individual consumers. Business products, also known as business-to-business (B2B) products, help other businesses create their own products, provide services, or operate efficiently.
Business products can be classified into various categories, such as:
Raw materials: These are natural or agricultural products used to produce other products, such as wood, cotton, oil, or metal.
Components: These are parts or materials used to assemble a finished product, such as an engine, tire, or battery.
Equipment: These are machines or tools used to produce or provide other products or services, such as computers, printers, or trucks.
Supplies: These are consumable items used to support business operations, such as paper, ink, or fuel.
What is a tourist visa?
A tourist visa is an official document or stamp that allows a person to enter a foreign country for leisure and tourism purposes. Depending on the country, they may also be called "tourist visas", "tourist visas" or "temporary residence visas".
Tourist visas usually allow the holder to stay in the host country for a short period of time. This can range from a few days to several months. During their stay, tourist visa holders are not allowed to work or engage in non-tourism activities. In some cases, a short-term stay visa for a specific country may allow you to carry out purposes other than tourism, such as business.
What is a travel document?
A travel document is a document that proves your identity and nationality when crossing international borders. A travel document can also give you permission to enter or leave a country or to travel for a specific purpose or for a specific period of time. There are different types of travel documents, depending on your nationality, destination, and reason for travel. Some examples of travel documents are passports, visas, and travel permits. Refugee travel document.
What is border control?
Border controls include measures taken by governments to monitor and regulate the movement of people, animals, and goods across land, air, and sea borders. Although border control is often associated with international borders, it also includes controls imposed on a country's internal borders.
Border controls are in place to control the movement of people, animals, and goods within and outside a country. Specialized government agencies are often established to carry out border controls.
What is a biometric passport?
A biometric passport is a type of passport that contains a microchip containing your personal information and biometric data, such as a photo, fingerprint, or iris scan. Biometric passports can be used to verify your identity and nationality when crossing international borders. A biometric passport can also improve the security and convenience of your travel because it can prevent identity theft, fraud, and forgery, and allows you to use automatic border control.
What is immigration law?
Immigration law includes national laws, regulations, and legal precedents that govern immigration to and removal from a country. Strictly speaking, it is different from other issues such as naturalization and citizenship, although they are sometimes confused.
States frequently maintain laws regulating both immigration rights as well as internal rights, such as length of stay, freedom of movement, and the right to participate in commerce or government. Immigration laws vary around the world and throughout history, depending on the political and social climate of the place and time, with the acceptance of immigrants ranging from broad assimilation to more mainstream attitudes. Deep nationalism and isolationism.
What is permanent residence?
Permanent residence is a legal status that allows foreigners to live and work in a country indefinitely without being a citizen. Permanent residents have certain rights and obligations such as paying taxes, accessing social services, and respecting the laws of the host country. Permanent residents can also apply for citizenship after meeting certain requirements, such as living in the country for a minimum period of time, passing a language test, and taking an oath of allegiance.
What is a Certificate of Identity?
An identity certificate is a document issued by the government of a country to any person for the purpose of facilitating that person's entry into or exit from any country. This is a document intended to identify the person but does not necessarily determine the nationality of the person. It gives the person the right to enter a country whose government has issued the document.
Sometimes called an expatriate passport, it is usually issued to non-citizens residing within their borders who are stateless or unable to obtain a passport from their nationality. This usually applies to refugees.
What is a passport stamp?
A passport stamp is an ink mark on a passport usually made with a rubber stamp when a person enters or exits a country. Passport stamps can indicate the date, location, and purpose of travel as well as visa status and length of stay. Passport stamps can also be used to verify a traveler's identity and nationality and prevent illegal immigration, fraud, or counterfeiting.
Passport stamps can vary in shape, size, color, and design, depending on the country and immigration authority. Some countries do not issue passport stamps at all or only issue them upon request or to certain travelers. Some countries also issue souvenirs or new passport stamps that are unofficial and may invalidate the passport if used.
What is a United States Re-Entry Permit?
The United States Re-Entry Permit is a travel document that allows green card holders to maintain residency in the United States while traveling abroad for up to 2 years. It is issued to green card holders who wish to keep residency in the United States during an extended trip abroad.
Re-entry permits are important because although green card holders can travel freely, they must maintain continuous residence in the United States. If you travel abroad for more than a year, you will be considered to have abandoned your residence and your green card may be revoked. A re-entry permit tells the U.S. government that you intend to return and continue to live in the United States after your trip abroad.
Sources
Poor-quality photos are one of the main reasons why passport applications are rejected. Therefore, it is important to strictly follow the rules. Above are the official requirements and instructions for taking and sending passport photos in different countries around the world. Depending on the type of application, online or on paper, the size, format, and quality of the photo may vary slightly.
https://travel.state.gov/content/travel/en/passports/how-apply/online-renewal-photo.html
https://en.wikipedia.org/wiki/Countries_applying_biometrics
Also See
https://en.wikipedia.org/wiki/Smartphone
https://en.wikipedia.org/wiki/Digital_printing
https://en.wikipedia.org/wiki/Image
https://en.wikipedia.org/wiki/Product_(business)
https://en.wikipedia.org/wiki/Travel_visa
https://en.wikipedia.org/wiki/Travel_document
https://en.wikipedia.org/wiki/Border_control
https://en.wikipedia.org/wiki/Immigration_law
https://en.wikipedia.org/wiki/Permanent_residency
https://en.wikipedia.org/wiki/Certificate_of_identity
https://en.wikipedia.org/wiki/Passport_stamp
Ask a question
If you still have a question about this topic after reading the article, let us know and we'll update the article. Include your email if you want us to reply to you.
Send fan mail
We love to hear from you! If our article helped you in anyway, let us know and we'll share it with the team on our Friday meetings.
Cite this article
MLA Style
Orcales, Wences. "Passport Photo Size Poland: Get Your Passport Photo Stress Free And Plant 1 Tree!Passport Photo Size Poland." Visas For Future, https://www.visasforfuture.com/passport-photo-size-poland/. Accessed on 22 September 2023.
Chicago Style
Orcales, Wences. "Passport Photo Size Poland: Get Your Passport Photo Stress Free And Plant 1 Tree!Passport Photo Size Poland." Visas For Future. September 22, 2023. https://www.visasforfuture.com/passport-photo-size-poland/.
Related posts