3532165712_257253ba61_o-scaled
Slide
Visa for Future Certificate

Colombia eVisa Processing Service
For Airport Transit, Tourism, Business, Student, and Medical purposes.
Visa validity, duration, number of entries, and requirements depend on the traveler's purpose.
$112.58 fee.
2 Business days turnaround time to review and submit the application.
Form validation included.
We plant a tree for every visa sold.
1.2 million visas processed and 7 years of experience
---
As seen on…
---
What we're selling, the Colombia eVisa
If you want to travel to Colombia and have one of the below passports, you need a Colombia eVisa. We offer Colombia Visitor (type V) e-Visa for various purposes, such as Airport Transit, Tourism, Business, Student, and Medical. We can help you with the application process, which takes up to 2 business days for us to review and submit your form. However, the Colombian Government may take longer to approve your visa.
Besides obtaining your eVisa to visit Colombia, you also need to fill out a Colombia Check-MIG form, which is a health declaration form. This form requires you to inform the Colombian authorities about your current health condition. The Colombia Check-MIG form is mandatory for all travelers who enter or leave Colombia by air, including Colombian citizens. We offer Colombia Check-MIG processing service. Click here to apply.
Nationalities for Colombia eVisa Online Service
People from these countries can obtain an eVisa for Colombia:
Click here for a list of nationalities
Afghanistan
Algeria
Angola
Armenia
Bahrain
Bangladesh
Belarus
Benin
Botswana
Burkina Faso
Burundi
Cambodia
Cameroon
Cape Verde
Central African Republic
Chad
China
Comoros
Congo
Cuba
Democratic Republic of the Congo
Djibouti
Egypt
Equatorial Guinea
Eritrea
Ethiopia
Gabon
Gambia
Ghana
Guinea
Guinea Bissau
Haiti
India
Iran
Iraq
Ivory Coast
Jordan
Kenya
Kiribati
Kuwait
Kyrgyzstan
Laos
Lebanon
Lesotho
Liberia
Libya
Macau
Madagascar
Malawi
Malaysia
Maldives
Mali
Mauritania
Mauritius
Mongolia
Morocco
Mozambique
Myanmar
Namibia
Nauru
Nepal
Nicaragua
Niger
Nigeria
North Korea
Oman
Pakistan
Palestinian Territory
Rwanda
Sao Tome and Principe
Saudi Arabia
Senegal
Seychelles
Sierra Leone
Somalia
South Africa
South Sudan
Sri Lanka
Sudan
Swaziland
Syrian Arab Republic
Tajikistan
Tanzania
Thailand
Timor Leste
Togo
Tonga
Tunisia
Turkmenistan
Tuvalu
Uganda
Ukraine
Uzbekistan
Vanuatu
Vietnam
Yemen
Zambia
Zimbabwe
Documents required
The documents required for Colombia eVisa are as follows:
A valid passport with at least 6 months validity.
A scanned or photographed copy of your passport
A recent passport-sized photo.
A letter with your full name and the details of your planned activity in Colombia.
A bank statement for the last six months.
A round-trip ticket.
Health insurance.
Why Choose an Agent
Our visa forms are easy and simple.
We validate your application.
We answer your questions.
We plant a tree!
How to order
Fill out the application form.
Submit payment.
Answer intake questions.
Receive your Colombia eVisa!
How we're different
We'll plant a tree for every product sold. Our vision is to support communities and the environment by offering services to the public. For every product sold, we'll plant a tree. We do this with local help to support local economies and communities. This is in opposition to mass tourism, which sucks the soul out of destinations. This is also in opposition to greedy international corporations, whose only concern is shareholder profit.
We do this with the help of One Tree Planted. A portion of every purchase goes to a reforestation or urban forestry project.
We hope that, by succeeding, we can have a future that we hope for, not dread.
Rule and Regulation
Law 2136 of 2021, also known as the Statute of Migration, is the most recent law regulating immigration in Colombia. The law establishes a new framework for immigration management, including new procedures for obtaining visas and permits, and new mechanisms for protecting the rights of immigrants.
Deliverables
When you order the Colombia eVisa processing service from us, you will receive the following:
Colombia eVisa
For every person you order for, we will give you the Colombia eVisa.
Tree planting certificate
For every order, we will plant a tree. The certificate thanks you for your contribution and gives you details on which reforestation project you supported.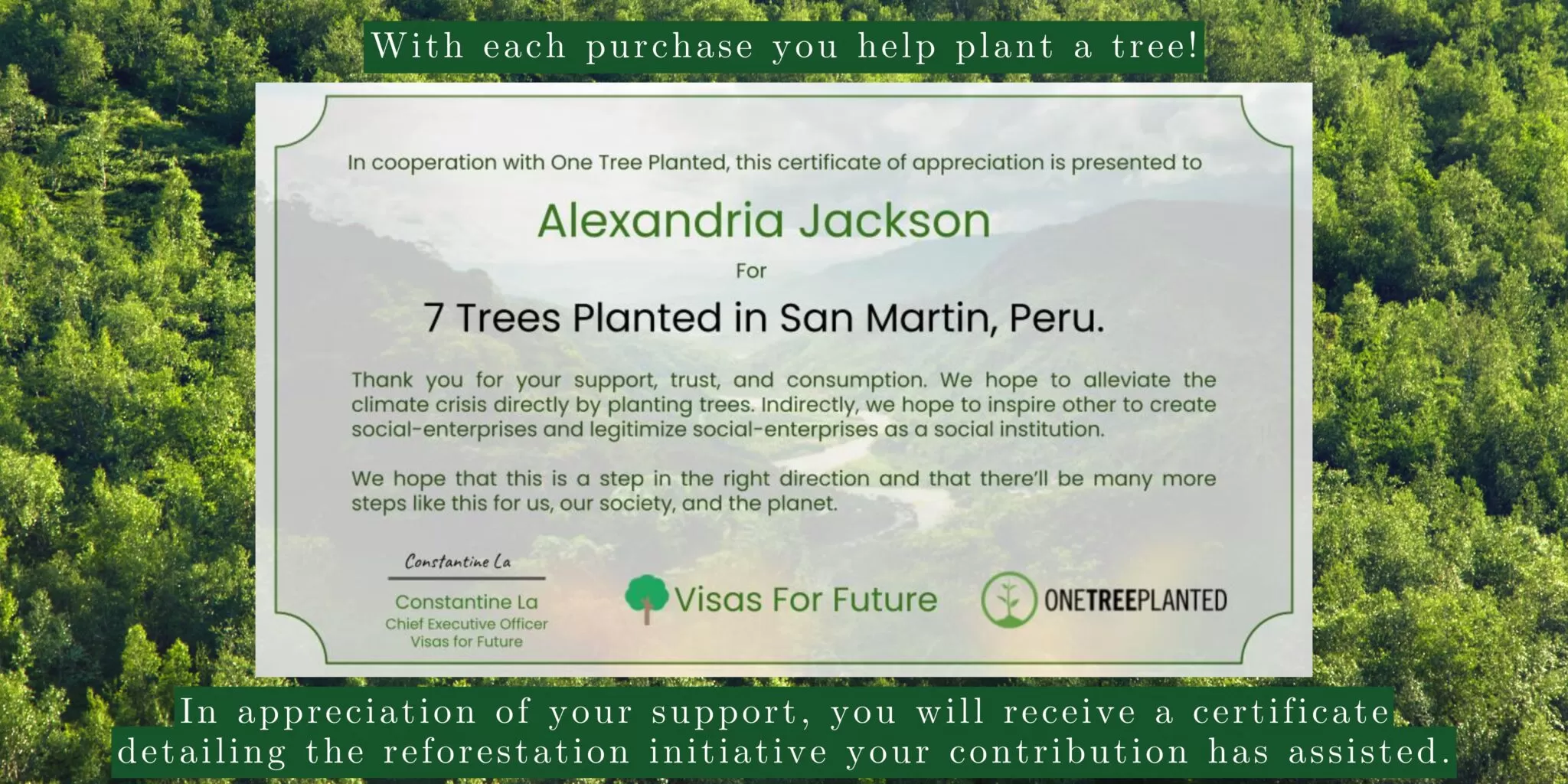 Frequently Asked Questions
Does Colombia offer eVisa?
Yes, Colombia offers eVisa to those who require a visa to enter the country for tourism, business, or transit purposes.
How to get a Colombia visa online?
To get a Colombia visa online, apply here at Visas for Future and we'll help you with your Colombia visa application.
I have additional questions about my travel itinerary and required documents.